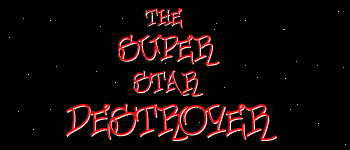 Hello, and welcome to my SUPER Star Destroyer Page! The Super Star Destroyer, in my opinion, is the coolest starship EVER to be made. It's massive size, bristling weaponry, rarity, and TONS of other awesome characteristics make it the most feared (but most cool) starship ever.


Type
Super-Class Star Destroyer


Manufacturer
Kuat Drive Yards


Scale
Capital


Length
8000 Meters


Crew
280,734 (279144 + 1590 gunners)


Troops
38,000


Cargo
250,000 Metric Tons


Consumables
6 Years


Weapons
250 Turbolaser Batteries
250 Heavy Turbolaser Batteries
250 Concussion Missle Tubes
250 Ion Cannons
40 Tractor Beam Projectors


Cost
1,000,000,000 Credits


Starfighters
12 squadrons Consisting of various TIE-class Ships (TIE-Interceptors, TIE-Defenders, TIE-Advanced, TIE Bombers) and others (Assault Gunboats, Missile Boats). 2 wings with the total of 144 fighters


Other Vehicles Carried
60 landing barges, 120 AT-AT walkers, 100 AT-ST walkers, Too Many Lambda-class Imperial Shuttles, Too Many Tyderium-class Imperial Shuttles, 120 Stormtrooper Transports



The first Super-Class Star Destroyer was awarded to the feared Darth Vader by Palpatine himself. The ship, named Executor, would serve as Vader's personal flagship. This massive flagship served as the heart of the Imperial Navy. The Executor was in many various battles, such as the Battle of Hoth and the Battle of Endor. Unfortunately, the Executor lost control during the Battle of Endor due to an A-Wing crash directly into the bridge. The Executor crashed into the Second Death Star and was annihilated.

Back to Rod's Star Wars Page